Connect to Nature at Timberlands
When you live in Timberlands, you're more than just connected to local shops and amenities. You're connected to the fantastic trail system and outdoor recreational options Red Deer's known for. The city boasts over 110 kilometres of trails that include the incomparable Waskasoo Park system. There's plenty of room to bike, walk the dog, or enjoy the natural beauty of the area. Plus, Timberlands is close to lots of wintertime fun.
Timberlands is on the east side of the Red Deer River. The neighbourhood is bordered by 67th Street/Highway 11 on the north and 30th Avenue on the west – a quiet community that's close to all the urban amenities you're looking for - schools, a public library, coffee shops, restaurants, transit stops, shopping, parks and trails.
Bike wherever you want to go
When you live in Timberlands North, access to Red Deer's extensive trail system is right outside your door. Our network of community paths connects to this trail system so you can go pretty much anywhere in the city. Best of all, the bike trails connect you with our area's stunning natural beauty and lots of fun activities. Whether you're looking for golf, bird watching, dining, playgrounds, or fun in the water, you're connected when you live in Timberlands.
Here are some of the places you can visit from this bike trail connection.
Waskasoo Park
This exceptional park borders the Red Deer River, running throughout the city. There are about 100 kilometres of both paved and unpaved trails that connect you to picnic areas, playgrounds, and recreational areas.
Kerry Wood Nature Centre
The Kerry Wood Nature Centre's Interpretive Centre offers hands-on natural history interpretation, interactive exhibits, unique books, thoughtful gifts, and more. The Nature Centre is the hub of Red Deer's Waskasoo Park trail system, making it a perfect starting point for anyone looking to delve into the area's natural surroundings. Plus, it's a fascinating place for kids with the Imagination Grove playground that encourages children to explore our natural spaces and the Harmony Garden, an outdoor music garden that inspires creativity in everyone.
Michael O'Brien Wetland
So close to Timberlands, but you'll feel miles away. For the bird watcher the ponds and vegetation attract many ducks, grebes and songbirds.
Heritage Ranch
Heritage Ranch sits on 217 acres of beautiful, wild municipal land at the south end of Red Deer, along the scenic Red Deer River. It's the perfect place to go on an adventure. Choose from ranch experiences, horse and carriage rides, ranch tracker games, and fine dining.
Three Mile Bend Recreational Area
Three Mile Bend Recreation Area caters to a variety of outdoor activities. Located on the North Bank Trail adjacent to the Red Deer River, Three Mile Bend includes canoeing ponds, picnic area, remote control car track, off leash dog area, and trails.
River Bend Golf and Recreational Area
River Bend Golf Course is located in 420 acres of forested parkland on the north end of Red Deer. It offers an 18 hole, championship course, a chip and putt 9 hole course, driving range, two pitching greens, putting green, CPGA-staffed Teaching Centre, golf shop, Grill Restaurant, plus banquet facilities in the Clubhouse.
Discovery Canyon
Operated by River Bend Recreational Area, this seasonal water park is the perfect place to cool down on a hot summer day. Discovery Canyon is open from June to the September long weekend (depending on weather). The play area features natural river-fed pools, tube floating, wading pool, accessible beach and boardwalk, picnic tables, concession, washrooms and showers, and a playground.
Trans Canada Trail
This is the longest trail network in the world, and we have part of it in Red Deer! The Trans Canada Trail connects Canadians and visitors to nature and stretches a total of 28,000 km. Of course, you don't need to bike the whole of it. Enjoy the sections nearby and think about what you're connected to.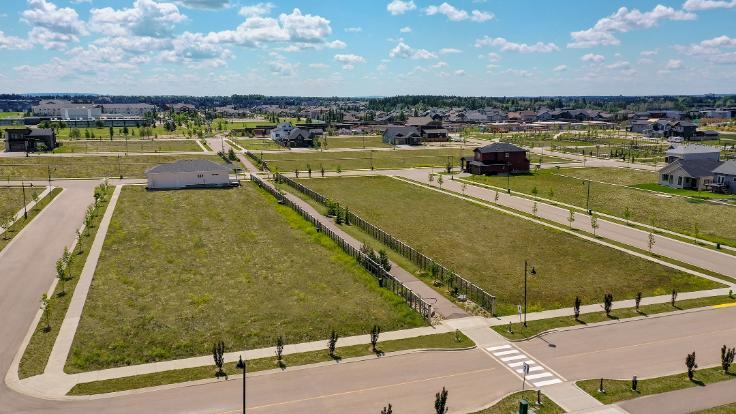 Nearby winter fun
Red Deer has so many options for winter activities!
Downhill skiing and snow tubing at Canyon Ski Resort
Skating on Bower Ponds
Snowshoeing at Kerry Wood Nature Centre
Cross country skiing at River Bend Golf and Recreation Area
Sledding at Rotary Recreation Park
Horse-drawn sleigh rides at Heritage Park
Live in Timberlands and you can take advantage of all these and more.
When you live in Timberlands, all-season fun is just around the corner
Picture a community with easy access to all the urban amenities you want but minutes away from recreational options and the beauties of the natural world. That's Timberlands, where you can hop on your bike and feel miles away in just minutes. Or quickly get to lots of cold-weather activities.
The neighbourhood's quiet streets and paved, well-lit paths are your connection to Red Deer's roads and bike trail system that quickly get you to fun and adventure. Set down roots in Timberlands where you can build your dream home on a quiet street and feel "away from it all" while still being close to urban life.
Back to News Articles